4 October 2023
Louisa Ghevaert was pleased to hear from Deborah Gold Chief Executive and Adam Freedman, Senior Policy and Research Officer at The National Aids Trust concerning the fertility treatment landscape in the UK for those living with HIV in conjunction with The Surrogacy Network on 28 September 2023.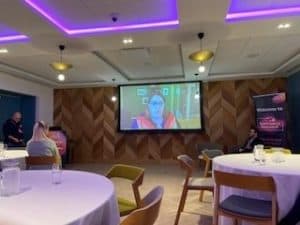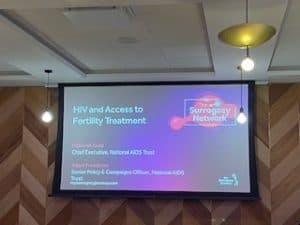 Images: Deborah Gold Chief Executive at The National Aids Trust.
Deborah Gold and Adam Freedman highlighted scientific advances making HIV undetectable and untransmissable and renewed calls for law reform to ensure equitable access to fertility treatment and surrogacy in the UK for those with HIV. They explained that effective medical treatment means that most people living with HIV in the UK have undetectable viral levels so they do not pass the virus on. Furthermore, men with detectable viral levels can undergo sperm washing to prevent HIV being passed on through fertility treatment. However, current UK fertility law prevents many people living with HIV from using their eggs or sperm in fertility treatments. They went on to explain that existing law is outdated, dating back to a time when HIV was less well-understood and medical treatments were not as effective and that law reform is now needed to prevent discrimination and improve access to fertility treatment.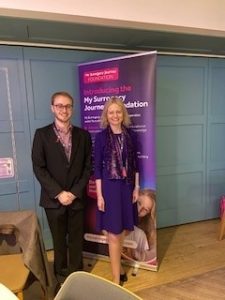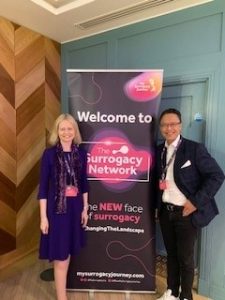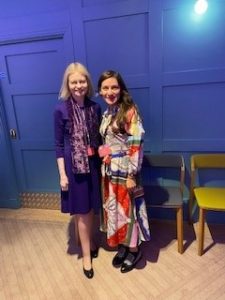 Images: Adam Freedman Senior Policy and Research Officer at The National Aids Trust, Louisa Ghevaert CEO & Founder Louisa Ghevaert Associates, Dr Yau Thum Fertility Specialist at The Lister Fertility Clinic, Diana Barahona Egg Donation Coordinator at The Lister Fertility Clinic.
Fertility & Family Law
Successfully navigating fertility treatment and assisted reproduction can raise complex legal and wider issues. Specialist fertility and family law advice helps effectively project manage your family building journey. It provides end-to-end legal and practical strategies to plan pre-conception, pregnancy, birth and family life. In doing so, it can address:
Legal issues and options due to impaired fertility, unsuccessful conception, age-related fertility decline, change in gender, medical status, altered personal circumstances, delayed parenthood and issues with consent (e.g. fertility preservation and maximisation, management of personal relationships, implications of using donor eggs and sperm and fertility treatment law).
Posthumous storage and use of eggs, sperm and embryos in fertility treatment following unexpected incapacity and death of a loved-one.
Legal issues associated with assisted conception involving a known donor, co-parent or surrogate (e.g. legal parentage, parental rights, financial responsibility and dispute mitigation).
Difficulties with storage and use of frozen eggs, sperm and embryos in fertility treatment in the UK (e.g. problems with consent).
Issues importing frozen gametes and embryos into the UK for use in fertility treatment and surrogacy (e.g. due to anonymous and commercially obtained gametes and embryos which engage UK public policy restrictions).
Issues exporting frozen gametes and embryos abroad for use in fertility treatment and surrogacy (e.g. consent and storage term difficulties).
Legal parentage issues and disputes (e.g. concerning DNA testing, direct-to-consumer genetic testing, rectification of birth certificate, declaration of parentage, step-parent adoption, recognition of overseas adoption, parental order).
Care and upbringing of children following a dispute with an ex-partner, parent, donor or surrogate (e.g. contact, residence, financial arrangements, parental responsibility, specific issue or prohibited steps).
Need Advisory or Consultancy? Alternatively, if you need specialist fertility and family law advice to understand and make informed decisions about the legal issues and implications of fertility treatment, family building and inclusive parenting in your case contact Louisa Ghevaert by email louisa@louisaghevaertassociates.co.uk    or telephone +44 (0)20 7965 8399.