20 September 2023
Louisa Ghevaert was delighted to attend Genomics England Research Summit at the Design Center in London on 19 September 2023. It brought together the genomics community to continue to advance research and drive forward much-needed healthcare benefits and genomic medicine for patients, parents, children and families.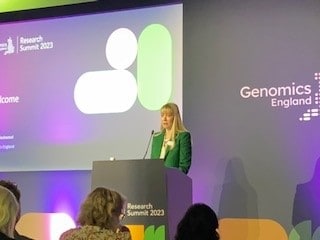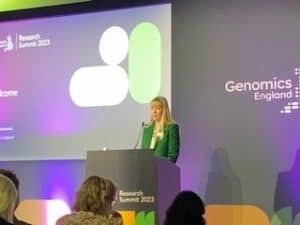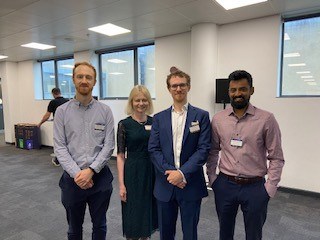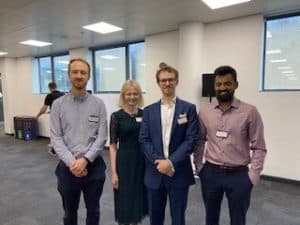 Images: Nicola Blackwood, Chair Genomics England, Rowan Howell Genomics Data Scientist Genomics England, Louisa Ghevaert CEO & Founder Louisa Ghevaert Associates, Tim Freeman Genomics Data Scientist Genomics England, Prasanth Sivakumar Genomics Data Scientist Genomics England.
The Genomics England Research Summit 2023 marks 20 years since the completion of the Human Genome Project, which sequenced over 90% of the human genome for the first time in 2003 (as close as DNA sequencing technologies could get back then). It also marks 10 years since Genomics England was first set up to deliver the UK Government's programme to sequence 100,000 human genomes and integrate genomic medicine into routine healthcare in the NHS. It delivered a really insightful and packed programme with presentations, panels and poster sessions from leading experts across the genomics ecosystem.
It was particularly encouraging to hear about progress with the Newborn Genome Screening Programme and learn that the first babies will be enrolled late winter 2023: anticipating 100,000 babies will have their genomes sequenced. This marks an important step forward in identifying genetic disease before it becomes symptomatic and providing early diagnosis and treatment for affected babies and children. Having a genetic diagnosis will also help families to access better support (currently most affected children do not receive a diagnosis until they are 5-6 years old). It will also explore the potential risks, benefits and broader implications of storing a baby's genome over their lifetime and develop understanding about how babies' genomic data can be used for discovery research. The results of the Newborn Screening Programme will then help determine whether genomic sequencing should be offered to all children.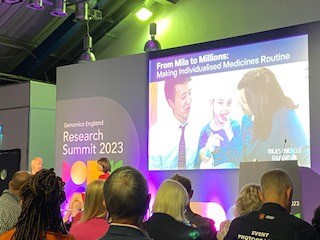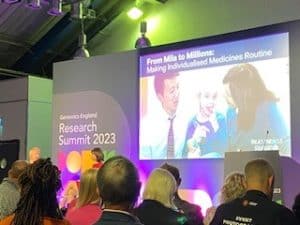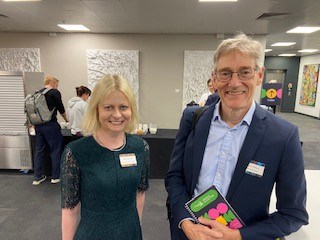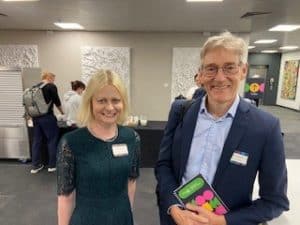 Images: Louisa Ghevaert CEO & Founder Louisa Ghevaert Associates, Sandy McBean VP & General Manager EMEA Ultima Genomics Inc.
It was really evident that genomic technology is coming of age and starting to deliver healthcare benefits. There was welcome news that the cost of sequencing a whole human genome has been reduced to $100.00 (which will reduce even further over time) and that this, together with technology advances moves us closer to a world where everyone can benefit from genomic technology and medicine. Moving forward, I look forward to seeing more work being done in the prenatal, pre-conception and fertility space.
Click here to find out more about complex legal issues associated with genomics and genetics that can arise in a family building and assisted reproductive context.
Need advisory or consultancy, a fertility lawyer or a family lawyer? If you would like to discuss genetic aspects of family building, legal parentage, children laws or navigate genomics, fertility, pre-conception, pregnancy, birth and family life contact Louisa Ghevaert by email louisa@louisaghevaertassociates.co.uk  or by telephone +44 (0)20 7965 8399.